STL CARDINALS' FIRST "BIRDS ON THE BAT" LOGO: 1922-1926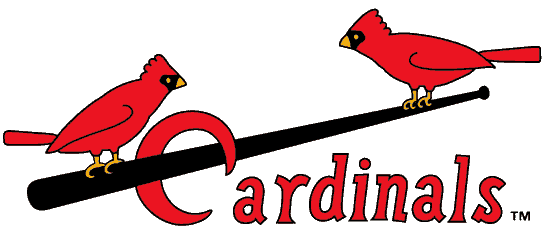 SUNDAY vs MIL: FINAL: STL 6, MIL 3Pursuit of 700 continuesAlbert Pujols hit his 688th and 689th career regular-season home runs to lead the Cards to a big series win!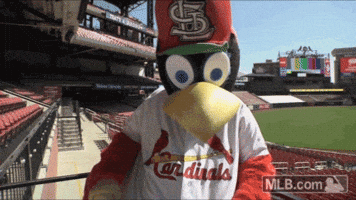 FREDBIRD INFORMS US, "That's a Winner!"
. . . .Even though we can't hear him. lol
CURRENT: 6-Game Homestand (MIL/3, COL/3) W/L TALLY: 2-1
UP NEXT: Tuesday vs COL 6:40 pm CT CLICK2CATCH! PREGAME
STL GAME TRIPLE PLAY!
1) Cardinals.com Game Write-up: CLICK2CATCH!
3) Mikolas Talkin' Baseball @ Game:
"You've got guys in the dugout getting goosebumps. It's such a special career, and to see him keep doing it, it's incredible," said Mikolas after Pujols hit career regular-season home runs Nos. 688 and 689 on Sunday in the Cardinals' 6-3 win over the rival Brewers at Busch Stadium, improving the team's record to 1 1/2 games above the Brewers at the top of the NL Central. "That's how you get into the Hall of Fame. He doesn't take anything for granted. Even in his last season, he's always trying to get better. He's not coasting into the Hall of Fame. He's going to kick down that door and have a nice plaque up in there somewhere."
SCROLL DOWN FOR MORE GAME DETAILS!
Welcome to MLBVoice.com. Hi! That's me in the middle w/my siblings!
.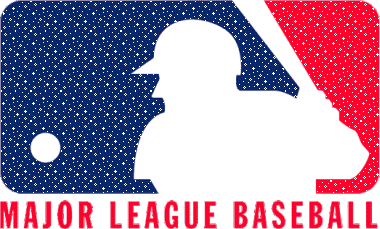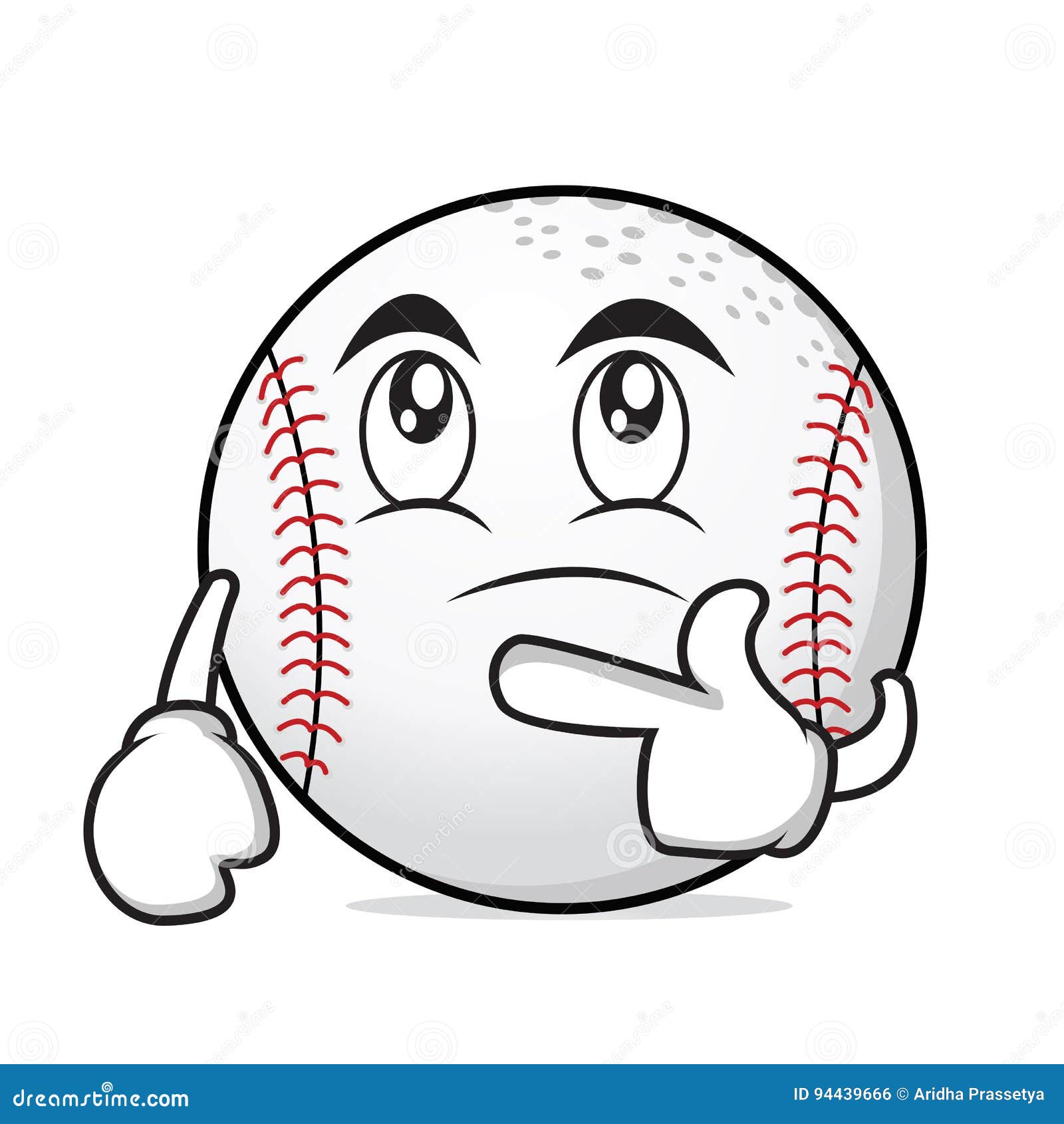 BASEBALL IS KNOWN AS A "THINKER'S GAME" & A BASEBALL FACT FOR YOU ON MONDAY~
Baseball was an Olympic Sport 1992-2002. The 1992 Summer Olympics in Barcelona was the debut of baseball as an official medal sport. Baseball was an event open only to amateurs. Eight nations competed.
PAUSE & PRAY W/MARY ON MONDAY
LET'S CHILL – LET US PRAY. . .
My Inspirations: Our Good Lord's Still, Small Voice, "Jesus Always – Embracing Joy in His Presence" & 99.1 JOY! FM
"Come to me, all of you who are weary and burdened, and I will give you rest." –Matthew 11:28-30
My Dear Lord & Savior Jesus Christ
Today may bring me some difficulties, but I know I can always find the Peace I need when I am Blessed in Your Holy Presence.
My relationship with You helps me be a better me. You Strengthen me each day with Your Love and Guidance.
Rejoice in the Lord for He is near.
..
Just revealed, Cardinals Legends BobbleheadsCelebrate the iconic trio of Albert Pujols, Yadier Molina and Adam Wainwright with three bobbleheads that piece together. You won't want to miss these three dates!
STL BIRD POOP!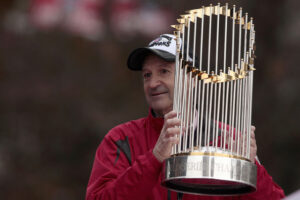 STL CARDINALS LEADERS: BILL DEWITT, JR – CHAIRMAN & CEO, JOHN MOZELIAK – PRESIDENT OF BASEBALL OPERATIONS & MICHAEL GIRSCH – GM
ST. LOUIS CARDINALS NEWS RELEASE 8/_/22: Waiting for scoop from our Redbirds. We know they'll send it to me when it happens! CLICK2CATCH! STL NEWS RELEASE W/DETAILS
MORE MLB & STL SCOOP!
🙂 CLICK2CATCH! STL Dynamic Deal of the Week on Cardinals Tickets WOO HOO!
🙂 "Chatter's Box" CLICK2CATCH! DETAIL ON FORMER CARDINAL KYLE MCCLELAN'S COOL BASEBALL PODCAST!
CLICK2CATCH! CHATTER'S BOX OPENS THE 2022 SEASON W/ALBERT PUJOLS!
😮 1982 CHAMPION CARDINALS: CLICK2CATCH! BUSCH STADIUM HONOR THIS AWESOME TEAM SATURDAY IN FRONT OF A PACKED HOUSE!
🙂 KEITH HERNANDEZ: CLICK2CATCH! KEITH HERNANDEZ SATURDAY IN THE BOOTH @KMOX!
😉 DAKOTA HUDSON: Aug. 14: Cardinals planning to skip RHP Dakota Hudson in the rotation Wednesday
"In hopes of helping Hudson become a more efficient pitcher against left-handed hitters, the Cardinals are planning to skip him in the rotation" Wednesday, manager Oliver Marmol said.
😮 CHIP CHIP CHEERIO, CUBBIES!: June 24-25, 2023! STL vs CHC London Stadium CLICK2CATCH! DETAILS
🙁 INJURY BUG: The IL is not FUNNY, Dude! CLICK2CATCH! STL DETAILS ON RECENT INJURY & ROSTER MOVES..
Albert Einstein said, "One picture is worth a thousand words." Of course, he knows what he's talkin' about, but we know that a video is even better! CLICK2CATCH! Videos vs MIL 8/14/22: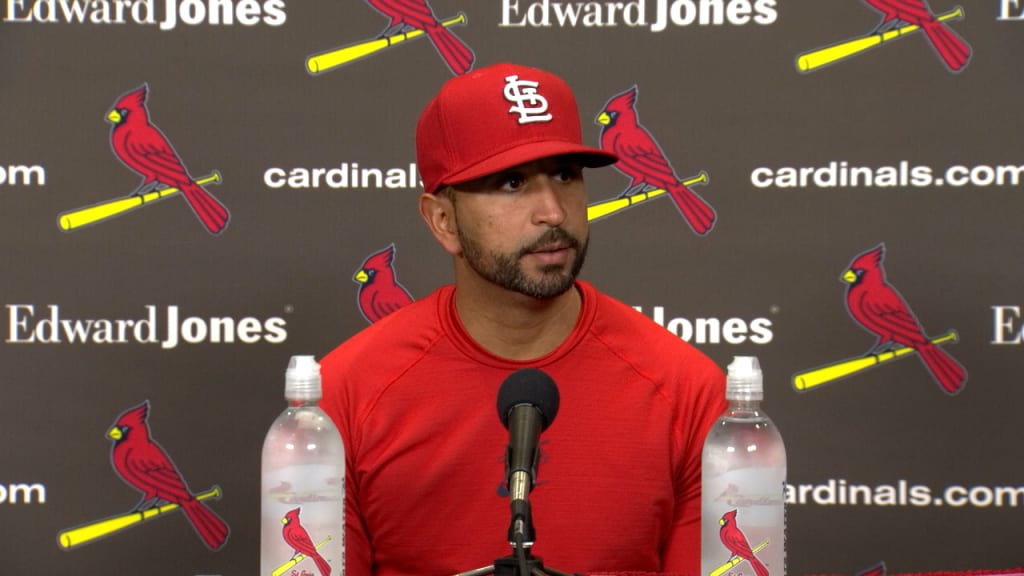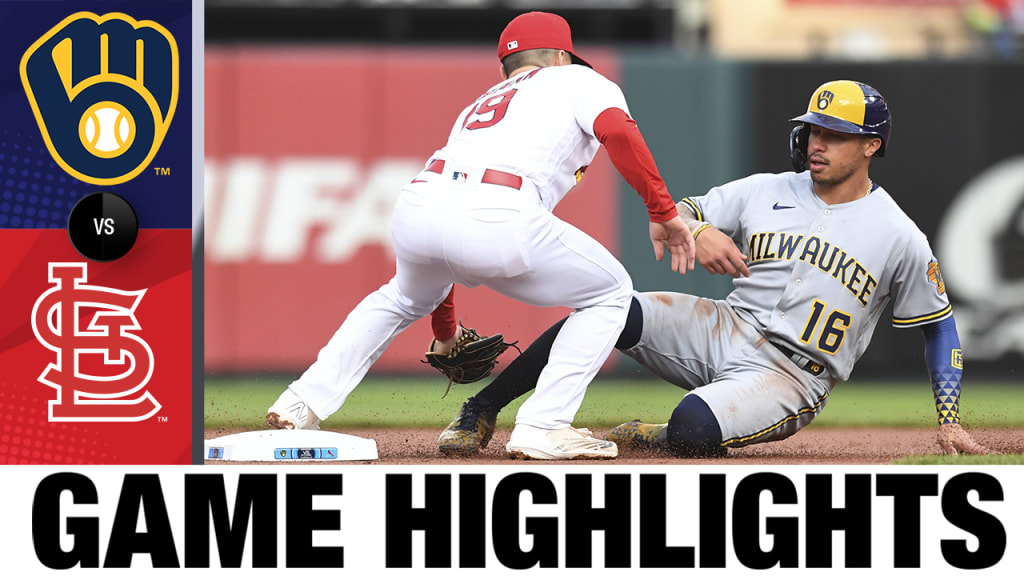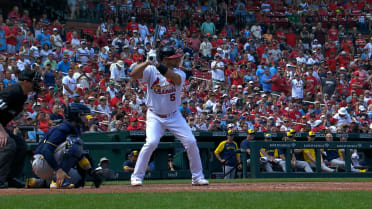 vs MIL 8/14/22 HOUSEKEEPING – Busch Stadium Paid Attendance: 44,142 WEATHER: 82 degrees, clear GAME LENGTH: 2:17
ST. LOUIS—-MIL 61-52/2nd NL Central vs STL 63-51 1st NL Central & up 1.5 games.
PREGAME FROM THE BOOTH @KMOX!
1) "Let's have some FUN! this afternoon, Oli." said Mike Claiborne KMOX 1120 AM.
"Let's do that!" said Oliver Marmol, Cards Manager! After the pregame interview, they start every game saying this upbeat thought! 🙂
2) Willie McGee (STL Assisitant Manager & OF w/1982 STL team)"Once the game started for manager, Whitey (Herzog), it was like a Little League game. Baseball was simple back in those days. I miss that."
WHAT HAPPENED? MIL vs STL 8/14/22~
With a slim a 1/2 lead in NL Central Division going into this contest, our game plan was to stay atop the division. Sunday's 6-3W puts us 1.5 ahead of MIL in the NL Central Division and victory took the series. Woo hoo!
When game started Sunday, MIL took quick two-run lead by a Renfro homer (Sat night's hero). After that "mistake" SP RHP Miles Mikolas "Lizard King" was "Nails!"
🙂 CLICK2CATCH! BASEBALL FUN! & watch Mikolas earn & talkin' to MLB Network his "Lizard King" nickname! You're right – you've seen this before, but it really never gets old, does it. FUN!
STL offense answered second inning with an Albert Pujols loooong solo homer into Big Mac Land that put us on the board. Thanks Albert! Free Big Macs for every fan sitting in that section!
8th INNING: Two-all tie till BIG inning: Dylan Carlson breaks a 0-for-8 with a solo shot & then #5 hits his second homer of the game – a 3-run bomb! #5 loves to hit at Busch — he's back where he belongs. Duh!
CLICK2CATCH! APP – HOW TO GET YOUR FREE WAFFLE FRIES @CHICK-FIL-A DAY AFTER #5 HITS A HOMER!
Yadi & Albert – Isn't baseball beautiful!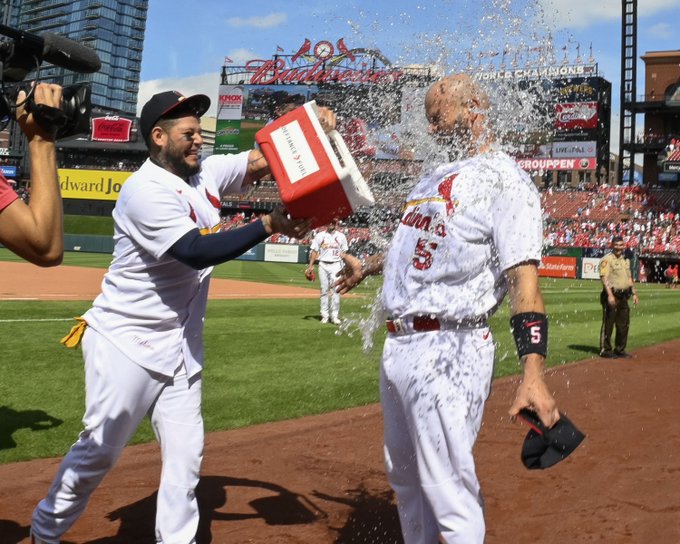 STL PITCHING: Miles was coming off his worst start this season @COL & looking to bounce back Sunday & that's exactly what he did. He was dynamite! Punched out (Ks) three of his last five MIL batters. IP: 8.0!
"Miles was super strong today!" screamed John Rooney into the radio on KMOX 1120 AM
SP STL RHP Miles Mikolas Line: IP:8.0 PITCHES/STRIKES: 99/64 H: 4 R: 2 ER: 2 BB: 0 K: 6 HR: 1 ERA: 3.44
BULLPEN: HELSLEY 1.0 9th Inning: Helsley w/his 0.67 ERA allowed his fourth homer of the SEASON (only, right).
STL OFFENSE: We faced MIL LHP Ashby. Southpaw has 103 Ks – Struck out five Redbirds. Dude is also known for mistakes he leaves in the middle of the plate. Allowed two HRs Sunday.
7 HITS — RUNS SCORED 2nd Inning: 1, 6th: 1, 8th: 3
STL Highlights at the Dish —
PAUL GOLDSCHMIDT! Still leads MLB with a .405 batting average!
TYLER O'NEILL! Two-hit game. Dude really needed that!
TOMMY EDMOND! Two-hit game. Ditto!
ALBERT PUJOLS! Hits two homers Sunday!
DYLAN CARLSON! Breaks 0 for 8 with a solo homer!
.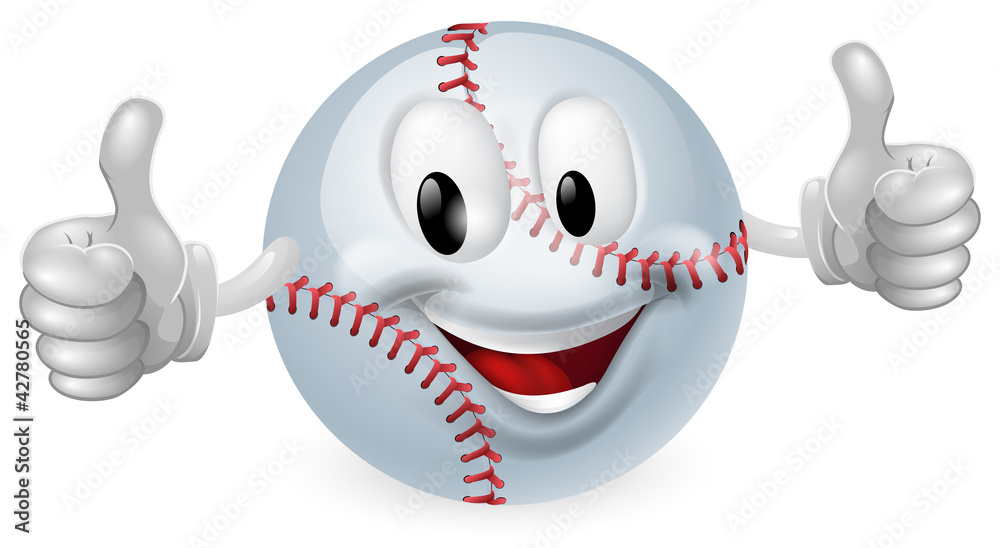 FOR US STATS GEEKS: GAMEDAY STATS! GAMEDAY STATS!
8/14/22 GM 3 OF 3
R H E
MIL 3 6 1
STL 6 7 0
WP: Mikolas 9-9 3.44 LP: Rogers 1-6 5.00
PITCHING vs MIL SUNDAY STATS
SP STL RHP Miles Mikolas Line: IP:8.0 PITCHES/STRIKES: 99/64 H: 4 R: 2 ER: 2 BB: 0 K: 6 HR: 1 ERA: 3.44
#STL Pitchers : 2 DP: 1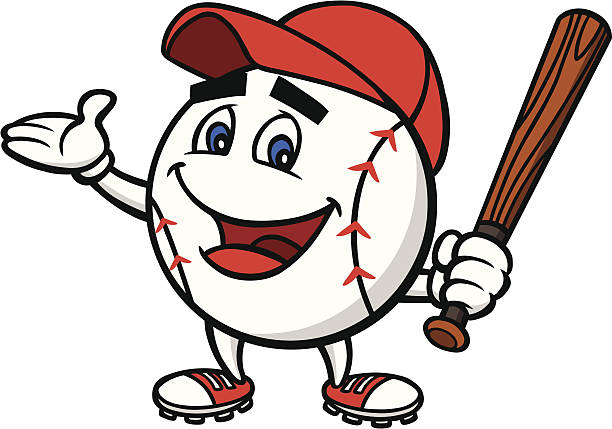 OFFENSE vs MIL SUNDAY STATS
RBIs: Carlson (36), O'Neill (39), Pujols 4 (30)
4! HRs: Pujols 2 (10, 2nd inning off Ashby, 0 on 0 out) (8th inning off Rogers, 2 on 2 out) 3-O'Neill (7, 6th inning off Ashby 0 on 0 out) 4-Carlson (8, 8th inning off Rogers, 0 on 1 out)
LOB/Birds Stranded on Bags: 3 #Pitchers Faced: 4 SB: Edman (24)