MONDAY WAS AN OFF-DAY. THAT'S OKAY, BASEBALL TONIGHT. I'LL BE TALKIN' BASEBALL WEDNESDAY. COME BACK!
MLBVOICE.COMW/MARY CLAUSEN
BASEBALL IS LIFE. THE REST IS JUST DETAILS!

Talkin' Baseball w/you since 2008!
A man at a baseball game wondered why the ball kept getting bigger and bigger.
Then it hit him!   
TIME TO FLY!
THE BIRD POOP ON TUESDAY, JUNE 25                STL RECORD:  40-37 .519                                                    THIRD PLACE & 2.5 GAMES BACK
JOSE MARTINEZ GOT THINGS STARTED IN NINTH WITH HIS 430 FT BLAST! MUY BUENO, DUDE! CLICK 2 C
MLBVOICE.COM LINEUP
BATTING LEADOFF: STL BUSINESS
ST. LOUIS CARDINALS PRESS RELEASE (6/22/19). CARDINALS HOST STANLEY CUP CELEBRATION!
ST. LOUIS CARDINALS NEWS RELEASE (6/25/19). JORDAN HICKS DIAGNOSED W/TORN UCL
CARDINALS POST-DISPATCH UPDATE – JORDAN HICKS IL
DYNAMIC DEAL OF THE WEEK VS. DIAMONDBACKS
GAME ON! TUESDAY 6/25/19
OAK VS STL. 6/25/19 7:15 pm CDT. CLICK 4 BUSCH STADIUM PREGAME. WATCH? FS-M. SEE ON THE RADIO? KMOX 1120 AM CRN. GAME 1 OF 2.
GAME OVER! SUNDAY 6/23/19
F

INAL:  LAA 6 VS STL 4

CARDINALS.COM GAME WRITE-UP – CLICK 4 MORE
ESPN MLB STANDINGS – CLICK 4 MORE
TALKIN' SH&T/SHILDT (no offense, Shildty)

"The walks always hurt," Shildt said. "We've been really good. We've gone from an area we wanted to seek improvement in, been clear about that, and have done it. Clearly tonight, it didn't help. That was a big part of it with seven walks."
ST. LOUIS — What a weekend! Three sold out games @ Busch Stadium vs LAA.
It was so good having Albert Pujols back playing ball in STL. Missed watching that sweet swing of his. Albert homered in Saturday's contest. OMG!! First time to cheer for an opposing player's home run. That won't happen again. Albert had a curtain call too! We cheered like crazy. Guess our pain from his 2011 sudden departure has healed some. Any sooner would have been too soon.
Pretty good weekend for Albert too. He really wanted to hit a homer @ Busch Stadium (he told LAA teammates).  You know he was all soft with the feelings (tears in his eyes many times) but a win is still what he was after in the end. Sunday, the Angels got the win. Sweeping his team just doesn't seem right. We won the series!
FUN! It was FUN! to watch Yadier Molina orchestrate Albert's at bats by standing between the pitcher's mound and home plate while Cardinals Nation showed his "brother" some love. WOW! So special!

Albert aside, we played some pretty good baseball this weekend. Ws Friday and Saturday. Sunday LAA opener, Skaggs, was in a rythm that kicked our Birdy Butts.
"We ran into a starting pitcher that really executed his plan against us," Edman said, who hit his first Major League triple. 
Sunday our Redbirds didn't give up & played hard till the final out. A ninth inning two- out rally. Jose Martinez started the roll with a mammoth 430 ft solo shot! Great to see his bat gettin' busy again. Nice work, guys!
"That's the way you have to finish a game, especially when you don't perform the way you have to early," Martinez said. "We had better at-bats, we had better contact, we did a good job."
Cardinals manager Mike Shildt added: "You talk about a fighting team, if anybody is ever going to question the heart of this team, look at that. … It was the mentality keeping the line moving."
Get this! Albert Pujols played dominoes at Yadi's home Saturday night with Yadi and his brothers. That's beautiful. Three big time baseball players playing dominoes on a Saturday night.
UP NEXT — ALL CDT:

TUESDAY 6/25/19 VS OAK 7:15, WEDNESDAY VS OAK 6:15, THURSDAY OFF-DAY. STL SCHEDULE? CLICK 4 MORE     
PITCHING: Miles Mikolas   IP5.0/H7/R1/ER1/BB2/SO4/HR0/ERA4.33 Total STL Pitcher BB's: 7
"They made me work for it," Mikolas said. "You keep them to seven singles, they only get one run, that's not bad. Keeping the ball down, limiting the big hit. I was able to stay away from the big hit."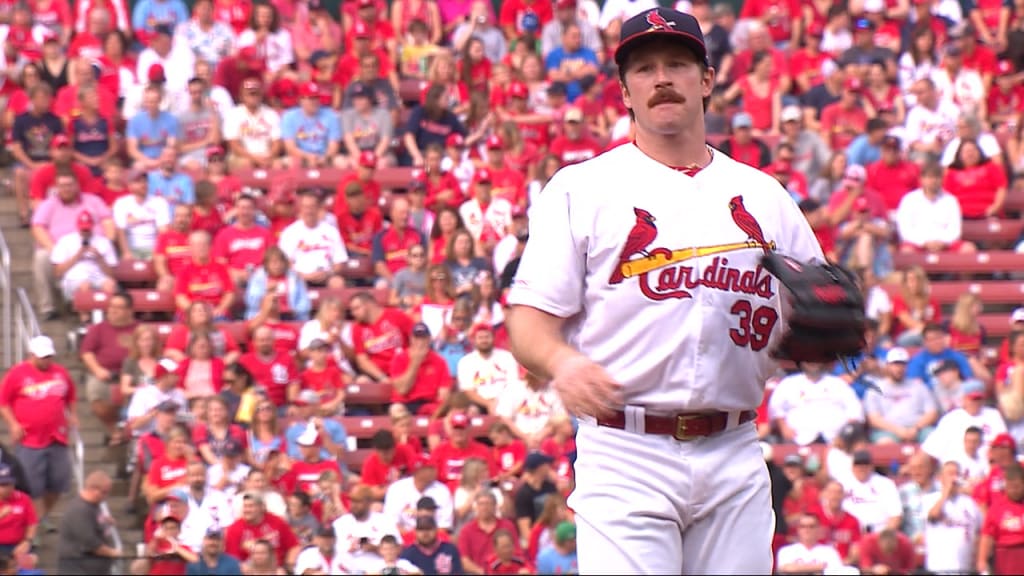 OFFENSE: STL RUNS SCORED: 1ST inning -/2nd – /3rd  -/4th -/5th -/6th 3-/7th -/8th – /9th 4     STL K'd 7 TIMES    BIRDS LEFT ON BAGS: 7 LAA LOB: 14  STL SB:
DEFENSE: $100 CARDINALS CARE DP: (Wong-DeJong-Goldschmidt)                STL HIT INTO  1 DP  STL E:
Double plays are never boring and our Third Inning DP was something to see. ESPN  called it "fancy". Wong totally did the Wight thing. He shined! Click 2 watch
STL VIDEO – CLICK 4 MORE: 
ALBERT PUJOLS: FINAL GAME OF BASEBALL IN SL
MILES MIKOLAS: Ks FIVE IN FOUR INNINGS
THIRD INNING: WONG'S AMAZING DP