MLBVOICE.COMW/MARY CLAUSEN
BASEBALL IS LIFE. THE REST IS JUST DETAILS! Talkin' Cardinals Baseball w/you since 2008
.
"In baseball, there's always the next day."
~RYNE SANDBERG

 
BIRD POOP ON SAT, AUGUST 17
STL RECORD:  64-56 .533                                                    FIRST PLACE                                                                             6-GAME ROAD TRIP TALLY 3-1                CARDINALS.COM GAME WRITE-UP – CLICK    MLB STANDINGS – CLICK
Click HERE for your Ticket Deals!
MLBVOICE.COM'S LINEUP – IT'S LOADED! BATTING LEADOFF: OUR STL BUSINESS AS USUAL~ 
ST. LOUIS CARDINALS NEWS/PRESS RELEASE: WAITING FOR NEWS FROM OUR REDBIRDS. THEY'LL SEND IT TO ME WHEN IT HAPPENS!
GAME ON!  SATURDAY STL @ CIN 
MILES MIKOLAS OPENS IN GAME 3. STL @ CIN 8/17/19 5:40 pm CDT. CLICK GREAT AMERICAN BALL PARK PREGAME. WATCH? FS-M. SEE ON THE RADIO? KMOX 1120 AM CRN. GAME 3 OF 4
GAME OVER! FRI STL 13 @ CIN 4
"A lot of us haven't had — well, the league hasn't had much success against him," Fowler said. "We got some good pitches to hit and put them in play." CATCH OUR CARDS' WORK!
MISS GAME OR JUST WANT TO SEE HIGHLIGHTS AGAIN? CLICK MLB.COM'S VIDEO RECAP OF W!
HOUSEKEEPING: WALT JOCKETTY -The former Cards' GM is the CIN General Manager. It was FUN! to get to see Walt. For 13 seasons back in the day, he did a good job for our Cards. He was responsible for acquiring a lot of our really good players. Thank you, Walt.
STL SKIPPER SHILDT TALKIN' BASEBALL: "We had a really good game plan, and guys were locked in and really convicted about the execution of the plan," Cardinals manager Mike Shildt said. "The whole batting lineup did a really nice job. Tonight, we were able to get the damage as a reward for it."
CINCINATTI — In Game 1 Thursday, our Cards were roughed up by Sonny Gray and CIN pitching. Two hits & 15 strikeouts. It was not pretty. We knew that.
Friday we had to face their best, All-Star righty: Luis Castillo, Castillo had a 2.69 ERA going into Friday's match-up. We knew of his abilities and we knew, also, that we had the chance to get to him (we've done it to other threatening MLB aces). We were lucky/blessed to do the latter. We got to him with a season-high 18-hits. Beat CIN Friday 13-4. More 🙂 – Cubs had their second walk-off loss against PHI!
Game 2 action all started with Dexter Fowler in the second inning. Dex hammered a 3-run homer. It's what we needed to get going. Oodles of pitches, and runs followed. Thanks Dex. It's right: "When you go, we go!"
SECOND INNING: DEX AND HIS 3-RUN SHOT. CLICK TO WATCH THE EXCITEMENT.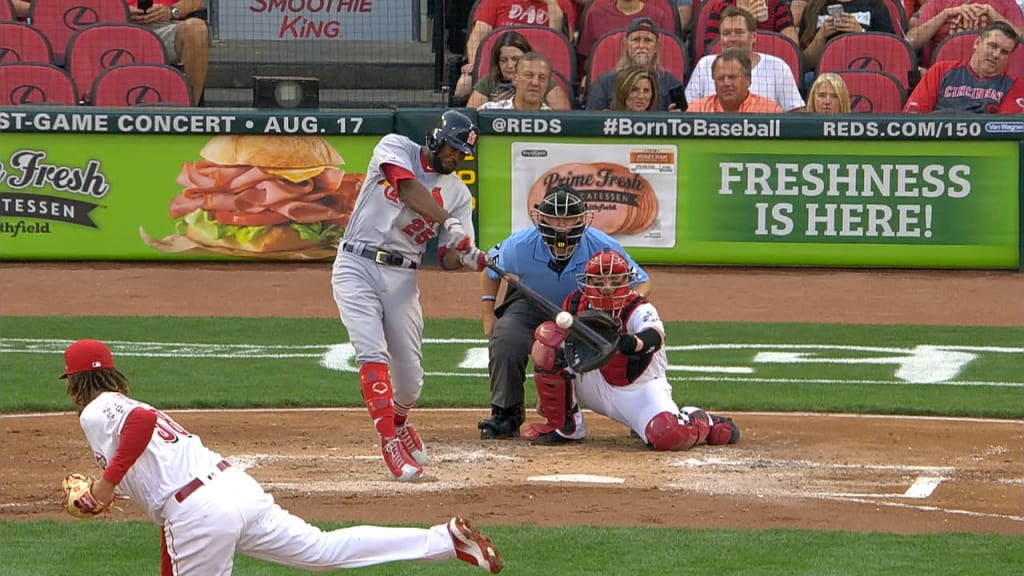 Homers by: Fowler, DeJong, Goldschmidt & Wong. Multi RBIs by: DeJong (2), Fowler (4) & Goldschmidt (3). CIN righty wasn't able to get to us early in the count, like he had with so many others. The first-pitch strike gives him control. We were able to score early and then add on (like we try to do in all games).
"He's one of the best in the game," Wong, who went 4-for-5 on Friday, said. "You have to approach the guy with the respect and just try to wear him out. Everyone came in with the same mindset that we were going to make him work a little bit. Try to swing at strikes — he has a lot of movement to his ball. He's a really good pitcher, we just wanted to make sure we didn't give away at-bats against him."
We started the contest with many guys in the O-fer club. Goldschmidt, Edman, Ozuna, Carpenter & Molina.  (Almost) everyone in the lineup hit. In the sixth, we batted around the order. Matt Carpenter was the only member of the lineup that didn't get a hit Friday. Have faith Carp, we know you'll have your day!
Adam Wainwright opened. It was his 23rd start. Waino has been awesome when pitching at Busch. He hadn't had luck against CIN or pitching on the road. Friday he did a fantastic job. He retired seven straight and was able to get first-pitch strikes in most of the game. His offspeed pitches, cutter, slider and Uncle Charlie were all nasty!
"That first inning, I think that set us up well," Cardinals starter Adam Wainwright, who gave up four runs (three earned) in 6 2/3 innings and had a base hit in the second inning, said. "When you can work a pitcher, get him grinding out there, working tough at-bats, 3-2, fouling off, fouling off, that takes its toll. As a pitcher, if you don't come back with a quick one in the second inning, that can really mount up on you."
Cardinal Nation is certainly not expecting offense like this in every game, but we'd just like you to "bottle this feeling" and get more consistent hits in games. That's just a suggestion, guys! 🙂
Go Cards — you got this. You do!
OPENED FRIDAY

: ADAM WAINWRIGHT   IP6.2/H7/R4/ER3/BB1/SO6/HR1/ERA4.33
STL USED 3 PITCHERS & CIN 5/9 INNINGS. TOTAL STL K'd CIN: 8,TOTAL STL BB'd CIN: 1: 
STL HR ALLOWED:  1-Aquino (6th inning, 0 on)
OFFENSE FRIDAY: STL

RUNS SCORED:

1ST INNING 1/2nd 3 /3rd  2/4th -/5th 2/6th 4/7th 1/8th -/9th –     STL K'd 7 TIMES    BIRDS LEFT ON BAGS: 6  KC LOB: 4  
RBIs/STL: DeJong 2 (56), Edman (18), Fowler 4 (44), Goldschmidt 3 (66), Ozuna (66), Wong (44)
HR/STL: 4!     1! Fowler (14, 2nd inning, 2), 2! DeJong (21, 3rd inning, 1 on) 3!  Goldschmidt (27, 5th inning, 1)  4! Wong (9, 7th inning, 0 on)
CARDS WERE AGGRESSIVE IN GAME 2.WONG CERTAINLY DID THE WIGHT THING!
DEFENSE FRIDAY:

$100 CARDINALS CARE 1 DP's                            STL HIT INTO  1 DP's  STL MADE 2 E's Edman (3, fielding), Carpenter (7, fielding)